Vertical Coin Cell Holders
Product Family Overview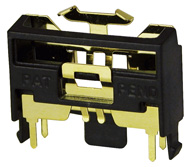 Verticals are an excellent solution on cramped boards.

Although electronic devices continue to shrink in size, they are still just as thirsty for power. Coin cell batteries are not shrinking in size or increasing in capacity as quickly, and fitting them into designs is requiring more innovations than ever before. Vertical coin cell holders minimize the footprint of coin cells, however at the cost of having a much higher profile. Newer Verticals are calling for a small hole to be cut into the PCB to allow for the holder to sit partially in the board, like the Minis family, and this minimizes the increase in height, usually saving around a full centimeter. When footprints are your chief concern, think vertically!
Verticals Product Spotlight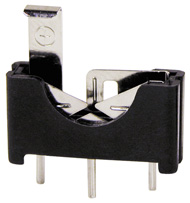 The BS-1225-PC is the newest vertical coin cell holder by MPD.

MPD is proud to have released the world's first CR1225 vertical coin cell holder this year. The BS-1225-PC, including an installed CR1225 battery, has a height of less than 14.5 mm and a footprint of less than 15.4 x 4.8 mm. The small and powerful CR1225 battery has a nominal capacity of about 50 mAh, but fits into a much smaller area than other typical coin cell batteries, such as the CR2032 which has nearly double the radius. The BS-1225-PC is also extremely stable and secure once mounted to the PCB, which is no surprise given that it utilizes the same tested and proven latching feature as our larger vertical holders. For more information, please visit the BS-1225-PC part page here.
Find Vertical Coin Cell Holders


The full selection of Verticals currently available can be viewed here.